For many adults and children alike, nothing compares to getting lost in a good book. Whether that be on public transport, in a relaxing bath or reading just before bed. However, this isn't the case for everyone and some may need a little more encouragement. The environment in which children learn to read can be deemed to be of as much importance as the books themselves. If children are forced to read, at an uncomfortable desk, in silence, it becomes a tedious chore. Create an atmosphere of 'hygge' in libraries and reading spaces to promote mindfulness and enjoyable reading.
What is 'hygge'?
Hygge (pronounced hoo-guh) is a Danish term with no direct translation in English. Hygge is a cold winter's day, cosied up next to the fire, a warming mug of hot chocolate when it's snowing outside or simply spending time around the dinner table on a Sunday afternoon with family. This phenomenon is ingrained into Danish life and with Denmark being one of the happiest countries in the world, could adapting hygge be just what our schools need?
The best thing about hygge is that it doesn't have to cost the Earth and it doesn't require much effort. You may have incorporated hygge into your life or classroom without even knowing! Soft throws and cushions on the couch or a bookcase with lots of old books full of memories; making spaces as cosy and comfortable as possible is what this Danish phenomenon is about.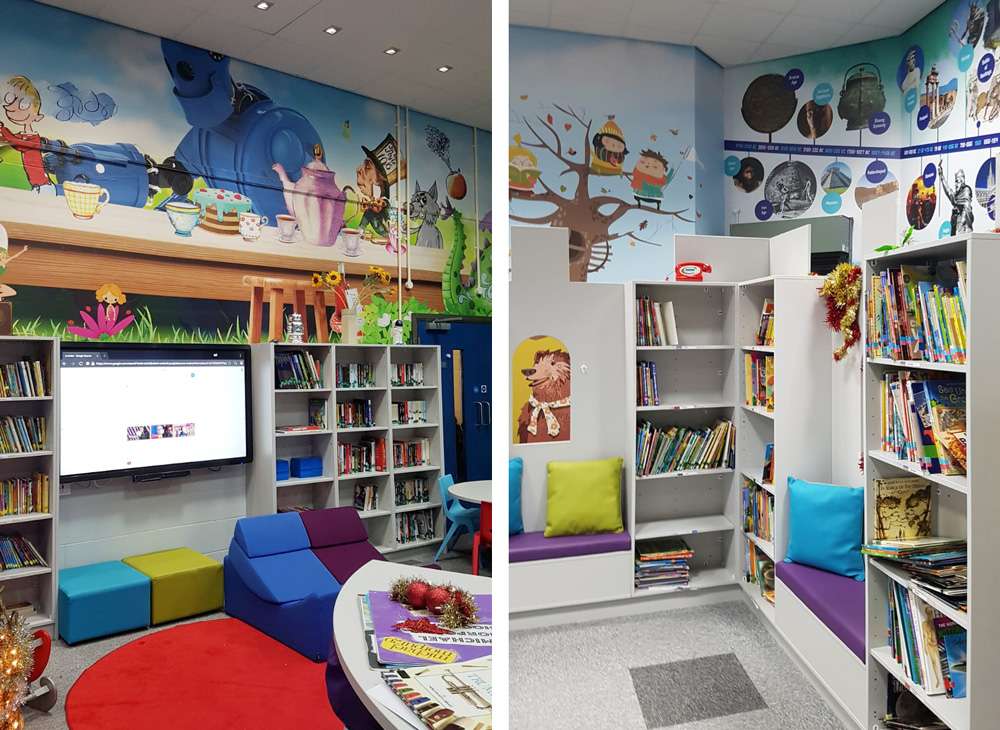 What makes a reading space / library hygge?
In the context of reading in school, it can be just adding a few soft bean bags or soft furnishing to create a 'reading nook' or a hyggekrog in a classroom. Most Danes will agree that candles are an important part of being hygge at home. Whilst candles may not be the most suitable in a school context, soft lighting is key. Lamps and softer lighting i.e. no bright lights can aid children to relax. Natural light is also important. Studies show that natural lighting has the power to lift spirits, aids concentration, along with many physical and physiological benefits, so make your reading nook next to a window in your classroom instead of in a dark corner.
Another important feature is colour. Avoid brighter colours such as red which is too distracting and proven to promote rapid eye movement and increase blood pressure. Choose softer colours such as blues or greens. These shades have been proven to be successful in libraries due to their calming and passive effect. These cooler colours also improve focus which help engage the mind whilst reading.
Plants can be a great addition to libraries and are gaining popularity in schools. Plants make areas appear 'homely', making children feel comfortable. Incorporate plants into libraries and reading spaces alike not only for visual purposes, but for the health benefits they carry. Indoor plants have the ability to remove toxins from the air around them, providing a healthier environment for children. Choose plants that are easy for the children themselves to maintain, creating a sense of responsibility.
To go full 'hyggelig' (hygge-like), call our team to help transform your library. They can work closely with you to make your visions a reality. Check our case studies on our website to discover some spaces we've already created.
Hygge is interpretable to whatever you want it to be, whatever hygge means to you. What is your idea of hygge? Where is your favourite place to read?